I'm back people! Kinda. Sorry I've been crazy busy again. I promise I'll catch ya'll up on my life. (Because I know you're DYYIINGG to read about whats going on.)
Happy Martin Luther King, Jr. Day to ya'll! So because I have the day off I decided it would be fun to try out a recipe for rainbow cupcakes that I've been dying to try.
Note: This was my first time making these on my own, so they didn't come out as awesome as I've seen them before.
First you'll need:
-Any cake mix (I used funfetti.)
-3 eggs
-2/3 cup oil
-1 cup water/milk
-different colored food coloring
-regular cupcake baking sheet
-cupcake wrappers
-4 small cups to mix the colors
(all the usual stuff, just with food coloring.)
First, make your cake mix like you would normally.
Then, separate your mix into different cups. I just cut some Solo cups in half and used the bottom halves as mini-bowls.
Now, using your food coloring put a little color into each container of cake mix.
Should end up looking like this:
I swirled my colors just for fun :)
After you put in the food coloring, mix the coloring into the cake mix.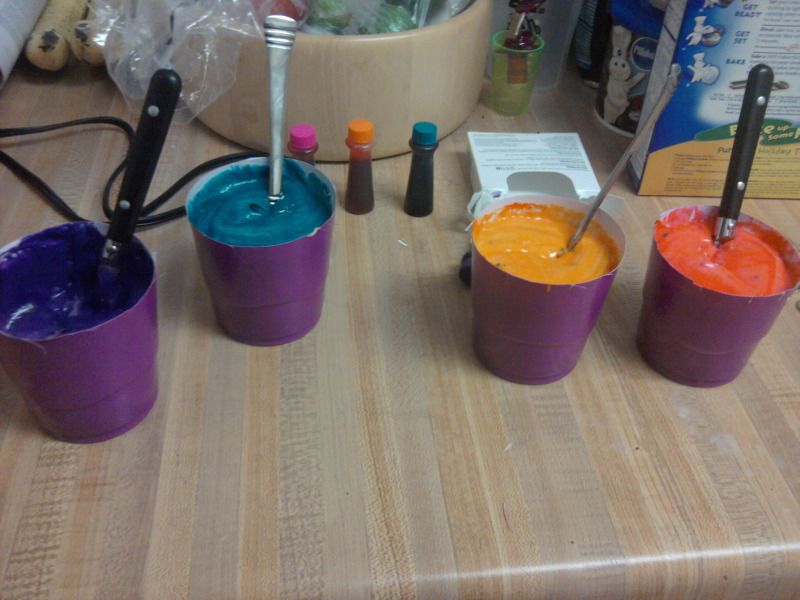 Woohoo! Fun color mixing! Now here's where you get to be creative.
Put in a little bit of your first color into your cupcake cups. Then shake the pan so that the mix has spread evenly throughout each cupcake cup.
Then do the same thing with your second and third colors. (Or however many you want. But remember that cupcakes only need to be able 2/3 full or they become GIANTS like mine did. ;) )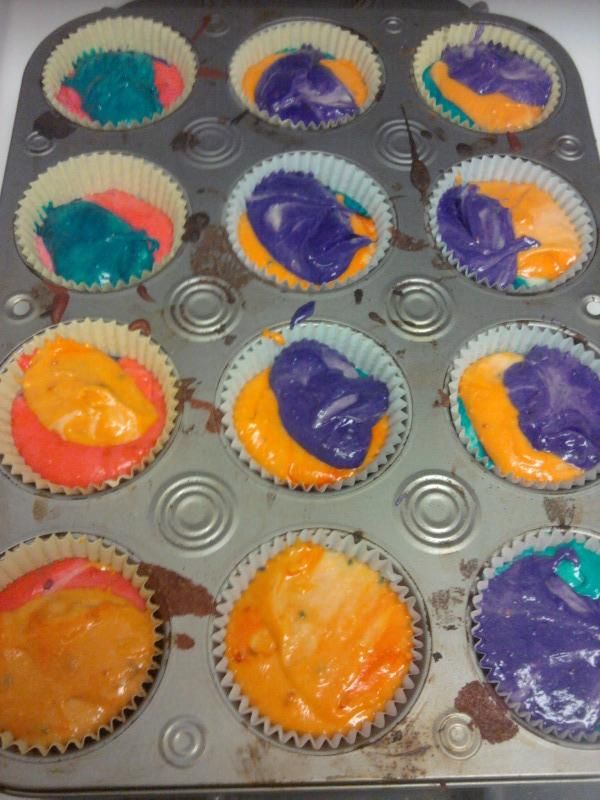 Bake for however long your cake mix box says. I did 20 minutes at 350.
Theeennnnn TADDAAAA!!
You can frost them if you want to for an extra surprise, but I left them plain and pretty :)
Enjoy! Love ya'll!